Security gaps and other incalculable risks at Microsoft – time to switch to open source
Tens of thousands of Microsoft Exchange servers in Germany are vulnerable to attack via the internet and are very likely already infected with malware. But Microsoft 365 and the Azure Cloud are also struggling with massive problems. Suitable open source alternatives could offer a remedy here.
Multiple critical vulnerabilities in Microsoft Exchange servers
The German Federal Office for Information Security (BSI) rates the current vulnerabilities in MS Exchange as a business-critical IT threat situation with massive impairments of regular operations [1]. But that is not enough:
«In many infrastructures, Exchange servers have a large number of permissions in the Active Directory by default (sometimes unjustified). It is conceivable that further attacks with the rights of a taken-over Exchange server could potentially compromise the entire domain with little effort. It must also be taken into account that the vulnerability could also be exploited from the local network if, for example, an attacker gains access to Outlook Web Access via an infected client.»
– BSI: Mehrere Schwachstellen in MS Exchange, 17.03.2021
The Computer Emergency Response Team of the Federal Administration (CERT-Bund) considers a compromise of an Outlook Web Access server (OWA) accessible from the Internet to be probable as of 26 February [2]. If admins now apply the security patches, the known security gaps will be closed, but a possible malware will not be eliminated. In addition, it is necessary to check whether servers in the domain have already been the target of such an attack and, for example, whether backdoors have already been opened.
Even today, about 12,000 of 56,000 Exchange servers with open OWA in Germany are said to be vulnerable to ProxyLogon [3] and another 9,000 Exchange servers have been taken offline or prevented from accessing OWA from the Internet in the last two weeks [4]: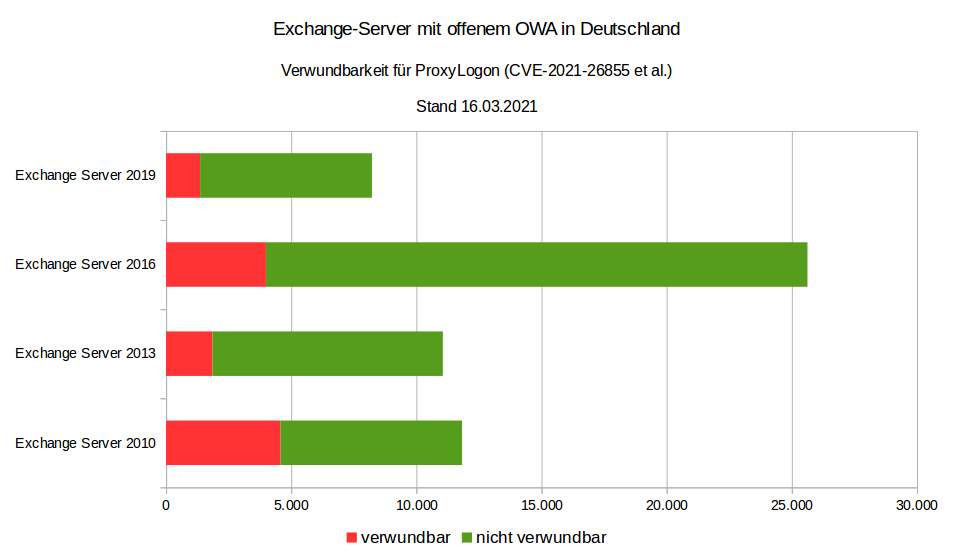 Only a month ago, the CERT-Bund warned that even one year after the release of the security update, 31-63% of Exchange servers in Germany with OWA openly accessible from the internet were still vulnerable to the critical vulnerability CVE-2020-0688 [5].
Problems also with Microsoft 365 and Azure Cloud
Several Microsoft services failed on the evening of 15 March 2021. The problems were caused by an automatically deleted key in the Azure Active Directory (AAD). This prevented users from logging in for hours. This also affected other services that are based on the Azure Cloud, including Microsoft Teams, XBox Streams and Microsoft Dynamics. In September 2020 and February 2019, there were already outages of Microsoft cloud services lasting several hours, which were also due to errors in the Azure Active Directory Service (AAD) [6].
However, these were by no means the only problems with Microsoft 365 and the Azure Cloud: according to a study by Sapio Research on behalf of Vectra AI [7] of 1,112 IT security decision-makers in companies that use Office 365 and have more than a thousand employees, attackers can take over Office 365 accounts in most companies.
The reason for the study was that remote working has become normal as a result of the global Corona pandemic and companies have quickly moved to the cloud. Office 365 has been a common choice. However, with 258 million users, they have also become a tempting target for cyber attacks. According to the survey, in the last 12 months
82% have experienced an increased security risk to their organisation
70% have seen the takeover of accounts of authorised users, with an average of seven accounts hijacked
58% have seen a widening gap between the capabilities of attackers and defenders.
Most respondents see a growing threat in moving data to the cloud. Above all, the effort required to secure the infrastructure was initially underestimated.
Microsoft vs. privacy
Finally, the State Commissioner for Data Protection in Mecklenburg-Western Pomerania and the State Audit Office are now demanding that the state government stop using Microsoft products with immediate effect:
«Among others, products of the company Microsoft are affected. However, a legally compliant use of these products solely on the basis of standard data protection clauses is not possible due to the principles established by the European Court of Justice. Without further security measures, personal data would be transmitted to servers located in the USA.»
– Press release of the State Commissioner for Data Protection and Freedom of Information Mecklenburg-Western Pomerania, 17.03.2021 [8].
In fact, however, this demand does not come as a surprise: The Conference of the Independent Data Protection Authorities of the Federation and the States already pointed out these dangers in 2015 [9].
Consequently, the State Audit Office of Mecklenburg-Western Pomerania concludes that software that cannot be used in compliance with the law cannot be operated economically.
Outlook
The news of the last few days make it clear that Microsoft can be operated neither securely nor reliably even if the operating costs were significantly increased. Finally, Microsoft services are not likely to be used in a legally compliant manner in Europe. With open source alternatives, more transparency, security and digital sovereignty could be achieved again. For example, last year we began advising a large German research institution on alternatives to Microsoft 365: Microsoft alternatives – migration to open source technologies. In the process, we are gradually replacing Microsoft products with OpenSource products over several years.
Update: 13 April 2021
There are again vulnerabilities in Microsoft Exchange Server, for which Microsoft has published updates for Exchange Server as part of its patch day [10]. This should be installed immediately. The BSI considers this to be a security vulnerability with increased monitoring of anomalies with temporary impairment of regular operation [11].
Update: 23. Juli 2021
In the press release, the State Commissioner for Data Protection of Lower Saxony, Barbara Thiel, continues to be critical of the use of Microsoft 365:
«We have not yet issued a corresponding order or prohibition, but it is true that we regard the use of these products as very critical. … Due to the overall situation described I can still only strongly advise against the use of Office 365 from the data protection perspective.»
– Press release of the State Commissioner for Data Protection of Lower Saxony, Barbara Thiel, 22 July 2021 [12]
Get in touch
I will be happy to answer your questions and create a customised offer for the migration from Microsoft 365 to OpenSource alternatives.
Veit Schiele
Phone: +49 30 22430082
I will also be happy to call you!
---